Look At My Cool Friends week is a celebration of the talented friends I have who are also putting books, music, and games into the world. If what they do looks interesting, check them out!
Gina Damico's a friend from back at Boston College. She's already written the well-received CROAK trilogy of morbidly funny YA modern fantasy novels. On January 6th, 2015, her fourth novel, Hellhole, will be published by Houghton Mifflin Harcourt. Synopsis (and a book trailer) below: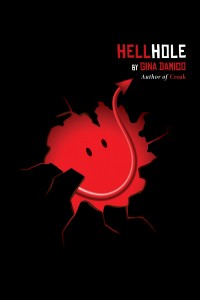 Geeky, squeaky-clean Max Kilgore only has one dirty habit: digging for fossils. One day, to his horror, his shovel strikes not upon a dinosaur bone, but a pit to hell—and out of it comes a devil. Specifically, the kind of devil who eats a lot of junk food, watches a lot of reality television, plays a lot of video games, and refuses to leave Max's basement. But evil is still evil, no matter what form it takes. And Max has to find a way to comply with the demands of the big red menace, lest he lay waste to everyone and everything Max cares about.



With the help of Lore, a former goth girl who knows a thing or two about the dark side, Max goes in search of a new abode for his unwanted guest. Finding a place where he can reside in luciferian luxury isn't easy, but Max has strong motivation: his mother, whose terminal illness the devil promises to cure if Max gives him what he wants. Lore has her doubts about making a deal with the devil, but Max will stop at nothing to save his mom. And pretty soon, he's doing things the good kid he once was would never dream of doing. Clearly, hanging around with a devil is a bad influence. But how can Max get rid of the guy without incurring the wrath of hell?
Having read the entire Croak trilogy, I can assure you that this is the turf where Damico works most comfortably – that fuzzy boundary between "well-behaved kids" and "troublemaking kids" that keeps pages turning.
Hellhole is available for pre-order at Amazon
, Barnes & Noble, and IndieBound. Check it out, or visit Gina's website to learn more!