UC Davis pepper-spraying cop gets $38K for disability claim:
Former UC Davis police Lt. John Pike has been awarded $38,056 for psychiatric injuries he claimed to have suffered following a 2011 campus pepper-spraying incident that drew worldwide criticism.

[...]

Pike, who was later fired, filed a workers' compensation claim saying he suffered depression and anxiety over the way he was treated in the wake of the incident.

A psychiatrist, who was agreed upon as an expert by both UC Davis and Pike's attorney, found Pike suffers from a "moderate" disability and is therefore entitled to workers' compensation benefits.

In a stipulated settlement entered Oct. 16, Administrative Law Judge Joel Harter ordered the University of California Regents to pay Pike $264.50 per week to reach the total payout, minus $5,700 in legal fees for Pike's Sacramento attorney.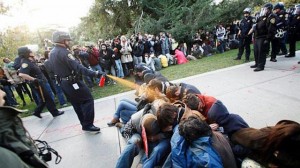 In my continual, perverse desire to put myself in the mindset of the unsympathetic, let's consider the following:
(1) I won't say "he was acting under orders" is a defense, because the 20th Century established that it shouldn't be. But it's not like Western society spent the years between Nuremberg and Occupy teaching people how to defy authority. So it's a bit of a shock to do your job for years, do it well enough to become a Lieutenant, and then get fired for doing that job.
(2) This guy received a lot of attention from Anonymous and the like after the incident. The Internet hate machine, when it's firing on all cylinders, can be pretty traumatic. I think it's fair recompense for the callousness it takes to OC sitting children in the face, but that doesn't mean I can watch it function without subdued horror.
So asking "does this guy deserve $38K or not?" is the wrong question. What we ought to be asking is "how was a system created that rewarded and promoted this guy up to the point where he thought it was okay to pepper-spray nonviolent protesters? And what can we do to change that system?" Because from an organizational standpoint alone, promoting this guy, firing him, and then rewarding him isn't too efficient.