Talking a little about reviews today.
Too Close to Miss has 12 reviews on Amazon, out of 257 ebooks sold (it's also available in paperback, but it's sold maybe 10 copies there, and Amazon aggregates the reviews anyway). It has 9 reviews on Barnes & Noble, out of 929 ebooks sold – 7 of which are anonymous. The Goodreads page indicates TCTM has been added to 55 shelves ("read", "to-read", etc.), out of which 27 people have rated it and 10 people have written reviews.
Some observations:



Goodreads has the highest reviewed/acquired ratio, which is especially impressive given that Goodreads isn't a marketplace in itself. In fact, several people reviewed TCTM on Goodreads and Amazon. Is "hero" too strong a word for these people? Yes. But "champion" isn't.


Amazon has a higher reviewed/purchased ratio than B&N, despite B&N allowing anonymous reviews. So having to sign your name to something isn't a barrier to participation. In fact, that may be part of the appeal.


Not counting the Anons on B&N, Goodreads has the highest percentage of reviews by people I don't know. This may speak more to the purpose of the site. Goodreads exists only to share information about what you've read with friends, whereas Amazon also serves that purpose, in addition to funneling goods to you at scandalously low prices. So a Goodreads user is, all things being equal, more likely to review a book that they added to Goodreads than an Amazon user is to review a book they acquired through Amazon. That's the type of user the site attracts.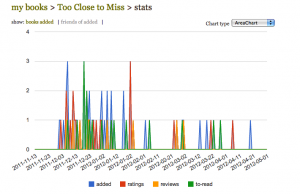 A little more on that last bullet: I suspect people review books on Goodreads to share information with friends (real or Internet), while people review on Amazon to share information with strangers (potential future buyers). The former encourages people to write more reviews. Or maybe reviewing is just a rare behavior – how many products do you review, out of everything you buy? 10% of them? 1%? – and Goodreads aggregates a lot of reviewers into a convenient clump.
A user who reviews my book is of value to me, almost regardless of how well they review it. A review tells future buyers what to expect. One of the biggest obstacles to purchasing a book is uncertainty: is this going to entertain or enlighten me? Yeah, the marketing copy looks good, but does it live up to the hype? Even a 2-star review that goes into detail (too much sex and violence) could lure a reader off the fence.
My conclusion: Goodreads is a worthwhile place to focus on to build buzz; Amazon is important to attract buyers; and Barnes & Noble can just keep selling in massive quantities for whatever reason they choose.
If you read Too Close to Miss and thought something about it, whether good or bad, please let your friends know via a review on Amazon, Barnes & Noble, or Goodreads.
If you want to see why readers call Too Close to Miss a "compelling, incisively smart, and witty thriller", then pick up your own copy!