Trout Stanley: A weird but captivating little play, which blossoms under some excellent performances from Exquisite Corps Theatre.
I was initially skeptical of the play, as I would be of anything whose synopsis begins, "The morning after an exotic dancer and local Scrabble champion goes missing …" But I suspended my disbelief long enough to head to the Factory Theatre on Tremont St. The set alone convinced me to stick around: the most complete transformation I've ever seen, turning the brick-lined black box into a kitschy apartment, full of the accumulated knicknacks of ten years of solitude, cluttered but not filthy. The tech crew also did some ingenious things with lighting, going from morning to evening to twilight without losing visibility on the proceedings. (Some of the lighting changes seemed a little arbitrary, and there were a few sound flubs, but this happens in any production)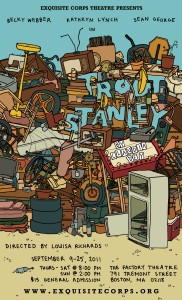 The play itself is better than it sounds, at least in the hands of a skilled cast. It's Beckett by way of SCTV: a tale of two characters, plausible in the abstract but cranked up to extremes, who live in an eccentric spinsterhood in the Canadian suburbs. There's Grace Ducharme, the feathered and flirty blonde who runs the local garbage dump, and there's her twin sister Sugar, wearing their dead mother's tracksuit – the Laura Wingfield of the family. When a grubby but naive wanderer stumbles into their home, it upsets the quarantine bubble they've made of their lives these past ten years.
Trout Stanley hinges so much on the characters believing the world they live in – as odd a world as it is – that it wouldn't work without truly compelling performances. Kathryn Lynch (Grace) has excellent comic timing, lighting up every scene she's in with the verve of a sketch show veteran. Sean George (Trout) has an animal intensity that makes him both weird and fascinating at the same time. When he says, "I never lie," he says it with a desperate conviction that makes you believe him. But Becky Webber (Sugar) is the standout, primarily because she does so much with scenes where she's the only one on stage. When she has nothing to play off of but her reflection in the mirror, a phone call with a man in town or a well-loved 12″ vinyl LP, she sinks into a trance of such complete self-obliviousness that it's almost intrusive to watch her.
It's an odd play, to be sure, but the production will make you laugh and keep you hooked. Worth a visit.