Friday wasn't my first time to the Liberty Hotel, but it was the first time I got to marvel at how the owners have redesigned the interior. Having Sylvia on my arm helped: she has an eye for design and spent a lot of the evening calling out little details. Me, I admired the redesign for its financial sense. The former prison has been converted into a tower ringed with balconies. Each balcony level opens onto private ballrooms or conference rooms and features a bar at one end. And of course, each balcony has a gorgeous view of the tower's floor-to-ceiling windows, intricate chandeliers and the lobby below. What this means is that you get to rent out the same space three times without anyone being cheated of a lovely evening. Contrast this with, say, the interior of the Luxor in Las Vegas, which has several thousand cubic feet of absolutely wasted space.
We were there for the Micro company party on the third floor balcony. Sylvia and I arrived just as the bar was setting up, so we snagged some drinks and socialized until the serving trays opened up. A variety of gourmet options abounded, including veal meatballs with ricotta cheese, a make-your-own-burrito bar and a wealth of desserts. The CEO gave a 10-second speech and then announced the winner of the baking contest earlier that day. My teammate Stacy's rotated Rubik's Cube cake had blown everyone else out of the water in presentation and originality and scored an easy win.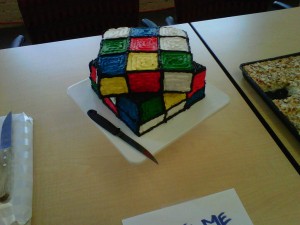 Though opulent, the Liberty Hotel isn't immune to the problems that plague your Best Westerns. Case in point: the hot water heater was out of commission on Saturday morning, resulting in tepid showers for Sylvia and I. The desk clerk asked us if everything was satisfactory when we checked out and, as I'm trying to speak up more about my feelings, I brought it up. He apologized, explained the heater situation, and took about 25% off our bill. Customer service is what separates the great hotels from the legendary ones, so the Liberty gets my vote.